(Source: CelebMafia 2014)
Although formerly remarked as Hermione Granger from the world-renowned epic, Harry Potter, Emma Watson now graces the screen as the silk, dandelion dress garbed Belle for Disney's upcoming remastered romance Beauty and the Beast. Yet, there is more to this heroine of the limelight than what passes the gawking orbs of cinema viewers, especially on the channels of social media.
(Link to Ms Emma Watson's Personal Twitter Page: https://twitter.com/emmawatson?lang=en)
A stalwart voice of the modern feminist movement for the international recognition of women's rights, Emma Watson has inundated her twitter feed with propaganda adulating the Woman's March on the District of Columbia, and praising notable contemporaries such as Scarlett Johansson and Alicia Keys for advocating the fight for the protection of women's reproductive rights. As the United Nations acclaimed Global Goodwill Ambassador for Women, and a globally recognised celebrity, Ms Watson has amassed a social-media agglomeration of over 23 million followers, and among her devotees is a culturally diverse myriad of progressive matriarchs and staunch feminists, both male and female, whom are rallied for a just and common goal: the preservation of women's rights. Laudably, down the snow-driven timeline of her twitter feed are digital videos and photography celebrating the victories of feminism, but also highlighting the influence of the noted Woman's March shared by preeminent egalitarians and citizens of the world (e.g Grammy Nominated artist Common, Senior UK Parliamentary Adviser Nathan Sparling, and internally renowned Belgian director Andrew Stroehlein); hence, validating Watson's image on a viral spectrum as a positive and relevant role model, which has enticed an overwhelming and influential audience of thousands.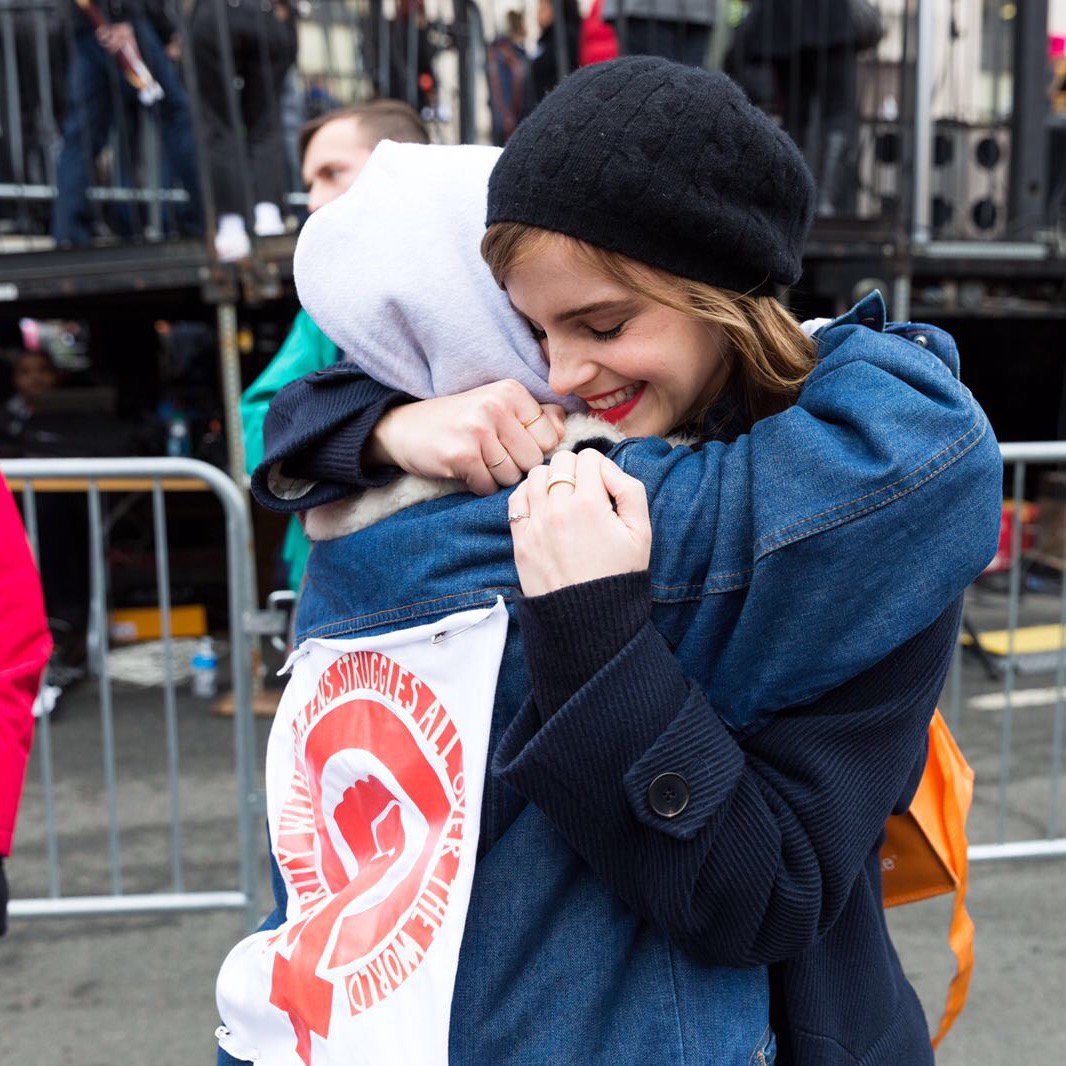 Ms Watson embracing demonstrator during DC Woman's March. (Source:Twitter 2017)
Also, Watson's personal commemoration of the Istanbul Convention, which condemns violence against women especially those suffering from physical and psychological impairments, has augmented her idolised character on social media for several of her retweets have received hundreds of shares, respectively, from devoted followers. Meanwhile, her recognition of the Orange the World Movement for International End Violence against Women Day solidifies her merit to bear a United Nations accolade, and therefore consolidating the hearts of incontestable droves awaiting her succeeding words of wisdom.
Moreover, beneath the spire of feminist escapades is Ms Watson's veneration towards the environment, for she lauds, via a retweet, Adidas's innovation of stylish footwear manufactured from recycled plastic bottles. In addition to that, her retweet of Pharrell Williams, writer of the Despicable Me song "Happy," praising the collective actions of North Dakotan denizens in lobbying for the Army Corps of Engineers to reroute the Dakota Access Pipeline, for the conservation of Sioux tribal lands exhibits not only Ms Watson's love for the environment, but also her adoration to preserve historic and inviolable cultures.  All of which has aided in the virality of Watson's image on social media markedly due to her emotion-driven theme of human interest.